Digital Locks Technology Require Specialty Locksmiths
In the computer and digital age, it's time our locks are up to par with technology. Digital locks are those that are managed without a key. There are many popular digital systems to choose, including hybrid selections that come with a key as an extra backup precaution. Digital lock technology requires specialty locksmiths who are able to install, repair, walk you through the steps it takes to learn how to use digital locks for your security, and to be there to verify you are who you say you are and help you get inside should you forget the code to open your digital lock.
Why Choose Digital Locks?
One very simple reason that digital lock is a good choice over their traditional counterparts is that you can never lose your keys, don't have to keep track of a key, and never have to worry about multiple re-keying services. Like any wireless or computerized technology, digital locks provide benefits that traditional locks do not allow.
There are various digital locks functions available such as programming the lock to set off a security alarm and lockout a potential intruder after a certain number of failed attempts are made. When it comes to fingerprint digital locks, there is an extra measure of security since no two people have identical marks, and you cannot burn off your fingerprints.
---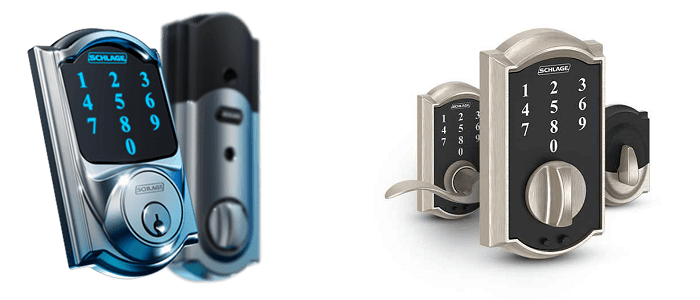 ---
Here are some of the most popular styles of digital locks available:
Push button door locks provide combinations. Think, high school locker only without the cumbersome metal knobs. Instead of using a key to open the lock, entering numbers onto a keypad in the right order is the secret to gaining entry. These lock combinations are able to be reset to zero directly on the door handle.
Remote signal locks are just like those used for keyless entry in a vehicle. A device is set into the door and then an electrical signal is triggered from a base remote that opens the lock.
Bio-metric fingerprint locks are systems that use fingerprints as the code to open the lock. Each approved fingerprint has to be authorized and maintained within the system's storage.
---
Call our authorized digital locksmiths to decide whether or not digital locks will meet all of your advanced technology keyless locking system needs!
For more information about our locksmith Phoenix service call us at: (602) 734-5232